Short Stories
Usually I write personal essays, but lately the medium of short story and the longer novella have captured my imagination. The following are examples of my work.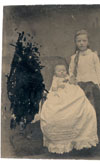 HISTORY of this short story: I had an opportunity to present a reading at the Ferry Building Book Passages Book Store through my membership in Left Coast Writers. These readings are themed monthly and for the month of October I signed up for Spooky Tales. I've always loved ghost stories, Stephen King and his ilk, so decided to try my pen at something from the same dark realm. I'd purchased a bundle of tintypes from one of the many great vendors on Ebay (see Mentors and Muses under resources). Included in the group was this strange image of three children, but one of them had been scratched and mutilated until only her shoes were showing. It was the inspiration for the following....
TALE OF THE TAINTED TINTYPE
The mattress seemed to give a bit as if someone sat upon it and leaned toward her. She was conscious enough—in that hazy landscape between deep sleep and wakefulness—to know that no one "should" be there. The doors were locked and the cat had been banished for bad behavior. She had no logical reason for someone, some thing, to be sitting on her bed, leaning over her, pressing everywhere, but not touching anywhere. She heard the slight squeak of bedsprings, the sense of something coming closer, then a soft sibilant whisper. Jessssica.